Library Tours
by administrator on Thu, 03/29/2012 - 21:19
Cost:
The price of the visits below is included in the registration fee. You will however have to pay for public transportation.
Description:
Université Libre de Bruxelles, Humanities Library
Located in the middle of the main University campus, The Humanities Library (BSH) was inaugurated in September 1994. This innovative triangle shape's building is sub-divided in theme-based levels dedicated to Philosophy & Letters, Social Sciences, Politics and Economics, Psychology and Education.
The extensive modern infrastructure of the library and her information and communications technologies are constantly evolving in order to give access to knowledge anywhere in the world and to offer all the distance services needed. Allowing everyone to discover, communicate and share information deeply contributes to a real scientific democracy.
[Source: At the crossroads of Knowledge. The ULB Libraries, Archives et Bibliothèques de l'ULB, 2006]
Royal library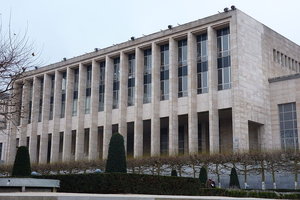 National bank of Belgium's scientific library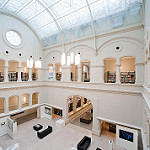 The library of the National Bank of Belgium is housed in a former bank building which was constructed in 1872. The style of the building is eclectic, as it mixes different styles or eras, including classical and neo-Gothic elements, but also modern techniques preannouncing the Art Nouveau style.
After several years of abandonment and decay, the listed building was fully restored and reopened to the public in 2010. The library owns one of the largest Belgian collections in economics and finance. The library's services are open to students, teachers and staff of associated institutions.
Université catholique de Louvain, Library of Sciences and Technologies
The Library of sciences and technologies of the Université catholique de Louvain is a building erected in 1973 by the Atelier d'Architecture de Genval which was for a long time the symbol of the new city campus. On six levels, the Library offers the printed documentary resources for the Faculties of Science, of Architecture, architectural engineering and urban planning, of Biological, agricultural and environmental engineering and the Louvain School of Engineering. Close to the collections, 49.000 books in free access, the library offer various kinds of spaces for studies and works : small individual locals, locals for groups, tables in quiet zone, etc. Due to a complete coverage of Wifi, this physical library is totally open to our rich electronic library with full access to scientific contents of major editors in sciences and technologies. The tour will conclude with terraces of the library that offer a 180 ° view on the campus of the UCL and the 40 years old city of Louvain-la-Neuve.
Université catholique de Louvain, Library of Social Sciences