Public transportation in Brussels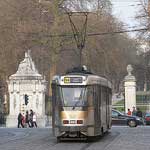 About tickets
Where to buy?
Tips & tricks
More information
---
Public transportation in Brussels (STIB-MIVB)
About tickets
1 fare JUMP (2,00 € outside vehicle; 2,50 € inside vehicle) entitles you to 1 journey (1 hour), with the possibility to change between lines, on the STIB network (bus, tram, metro; except for the NATO-Brussels Airport section of lines 12 and 21), DE LIJN (bus), TEC (bus) and SNCB (train) in Brussels.
NB: MOBIB tickets require a chip card to be ordered by advance (not really suited for visitors).
Also available
5 journeys JUMP (7,50 €),
10 journeys JUMP (13,00 €),
1 day JUMP (6,00 €).
NB: those tickets cannot be purchased inside vehicles.
Where to buy?
BOOTIK (3 shops in Brussels)
KIOSK (19 ticket offices in the most important underground stations)
GO (270 vending machines in every underground station and at the most important bus and tram stops, 24/24)
On the buses (2,50 €, only 1 fare JUMP ticket)
Retail outlets (only JUMP ticket)
On the buses of DE LIJN (only JUMP ticket)
On the buses of TEC (only JUMP ticket)
In SNCB railway stations in region of Brussels (only JUMP ticket)
Tips and tricks
Trams have priority over all users, including pedestrians. You must therefore always give right of way and refrain from walking on a pedestrian crossing when a tram is approaching.
Unlike the metro, which stops in every station, trams and buses stop only on request. Please signal to the driver in good time to let him know that you want to get on his vehicle!
On most vehicles, you control the opening of the doors: either by pulling handles on the doors (metro), or by pressing the green button on the green strip in the middle of the door.
Get on the bus at the front door and show your ticket to the driver. If you do not have a ticket, you can buy one from the driver. Then, make room for the other passengers by moving to the back of the bus and get off at the rear door(s).
Take care, latest transports are around midnight (a taxi then starts at about 25 euros): have a look at the timetables.
More information